HSL are proud to announce that they are now featured on the new Digital First Online Consultation and Video Consultation (DFOCVC) Framework which will provide a streamlined route for supplying and purchasing assured online consultation and video consultation systems. This framework will also be open to care settings beyond primary care and will provide a greater assurance to the buyer than previous procurement routes as well as , centralised processes and a greater transparency on pricing.
HSL's Integrated Video Consultation platform utilises Zoom, a Unified Communications solution that enables Health and Care Professionals to securely deliver remote consultations and appointments through video, at any time, from anywhere, to create an efficient digital workflow, speeding up your healthcare delivery, whilst still providing the best care to Patients. Additional features that come with Zoom include meeting transcriptions, a secure, encrypted connection, call recording and medical device integration. These allow for a more efficient consultation with integrations into PAS also possible.
With over 25 years' experience in providing video solutions across healthcare organisations, our managed services offer the support in creating, deploying, and maintaining your digital strategy with customised Zoom healthcare solutions.
HSL's Integrated Virtual Consultation platform utilises all the functionality and security of Zoom and can therefore be up and running in minutes, used with or without an app and activated with minimal information or technical knowledge, therefore enabling a simple, clear, cost effective and convenient way to conduct Video Consultations between Healthcare providers and patients.
The Zoom platform, unlike other Unified Communications (UC) software available, is DTAC, DSPT, DCB0129, ISO27001 and Cyber accredited to provide NHS Staff and patients the confidence that this solution has been assessed to the stringent clinical safety, data protection, technical security, interoperability, usability, and accessibility standards expected by the NHS and other care settings.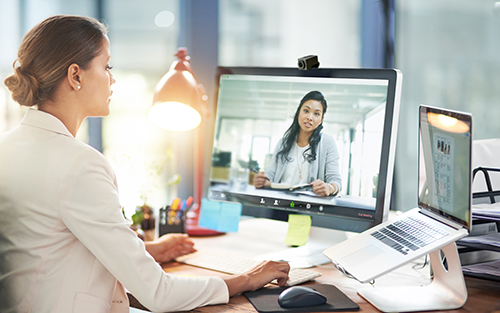 With capabilities including testing and accessibility functions, waiting rooms, group consultations with the ability to invite others, direct messaging, file and screen sharing and recording to name just a few, the use of Zoom over the NHS has grown significantly to enhance their delivery of care and patient outcomes and is deployed across hundreds of locations, integrating seamlessly with clinical systems, IT infrastructures, as well as the wider ecosystem of healthcare and unified communications.
Our team can demonstrate Zoom in action so give us a call today or contact us via the DFOCVC Framework. Description (digital.nhs.uk or learn more here Virtual Consultation – DFOCVC – Hospital Services Limited (hsl.ie)